Content
Power Rider
Matt Bignell was the lucky kid we all envied - this is his account of how he became a Power Rider!: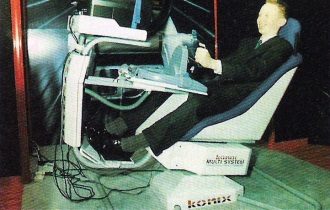 First member of the Power Rider club
Matt Bignell
"I think the year was 1989 and I was very fortunate that my father was the director of a model kit company called 'Revell', and was exhibiting at the Earls Court Toy Fair in London.
I was 15 and like any other kid of that era I was hugely in to Transformers and Computer Games and owned an Amiga A500, previous to that Commodore 64k and had shelves of ACE and Computer & Video Games Magazines.
As I was walking around the Toy Fair which can only be described as the biggest toy event of the year - forget Hamleys! This place was amazing, seeing all the new products being released for the following year - and I was allowed to have a sneak-peek!
I looked forward to this show every year, as I was basically a gopher who helped throughout the duration of the show which I loved as I got the opportunity to see, and occasionally play with all the new cool toys, and as this was a Trade Only show no public were allowed in, only shop owners, import/exporters and distributors.
I remember walking around the balcony of Earls Court opposite the Revell stand, and to my amazement saw the Konix stand... well I was in video game heaven! The chair somewhat mimicked Sega's 'Afterburner' style arcade game which was every kid's absolute dream.
The Konix Multi-system was such a revolutionary idea; a console that you could totally immerse yourself in - pull back on the joystick and you moved in the same direction. I think for the first time consumers realised that they could actually 'own' such an amazing console only found at arcades.
This is what dreams were made of, every kids birthday and Christmas rolled in to one and my god didn't we all want one! Like any 15 year old would do, I showed great interest and spoke to Wyn Holloway about the upcoming games and graphics, Wyn was very friendly and I must have spoken to him for ages with regards to the Multi-system.
The next thing I know there were a couple of people from ACE Magazine taking pictures and talking to Wyn and the next thing I knew I was asked to 'have a go' and to have my picture taken... well hell I think I was in that chair in a split second later!
The chair itself was very comfortable and responded very well to the console; I didn't want to get off! It was just like Afterburner... but I remember at the time I wished the graphics were as good as Sega's! The Toy Fair went on for about 5 days... I know I spent quite a lot of my time over at the Konix stand, but like everything in life, everything comes to an end.
Once the Toy Fair finished, I went back to School and waited patiently for what seemed like months for the next copy of ACE Magazine to hit the shelves to see my picture demonstrating the Konix Multi-system, and eventually it did to the envious eyes of my friends who didn't believe me! I really wished the system took off for Wyn, as who knows where it would have been today... the Xbox 360 or PS3 equivalents may have been manufactured by Konix? Who knows..."